Monden Yuichi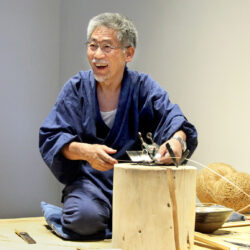 Monden Yuichi
Monden Yuichi's father, Monden Kogyoku, discouraged him from pursuing a career as a bamboo artist because of the economic hardships of the life. Heeding his advice, Monden Yuichi chose to become an engineer, but not before spending countless hours observing his father at work. Although not formally trained, this study gave him the tools he needed to produce one basket a year, which he submitted to local exhibitions.
The bamboo arts were never far from his thoughts. In 1998, when he retired from engineering, he attended the Beppu Occupational School and studied under Tanabe Nobuyuki, a top student of Japanese Living Treasure Shono Shounsai. Then here turned to the Hiroshima area where he was born and dedicated himself to bamboo sculpture.
In 2004, he won the Newcomers Prize at Japan's Gendai Kogei Exhibition and the next year he had his first successful admission in the prestigious Nitten show. His work is part of the collection at the Museum of Art and Design in New York City and was represented in "The Next Generation" exhibit at the University of Arkansas.
A marathon runner with an exuberant personality, Monden brings a fresh, vibrant energy to his ever developing work.
ARTIST STATEMENT
Late at night in 1975, after my father went to sleep, I went to his studio and, picking up his bamboo knife, started to split scrap bamboo that he had discarded. I was born into a bamboo basket-making family and lived and played with bamboo since my childhood. Bamboo was everywhere in my life. I asked myself, is it a waste not to try to make something with bamboo? I couldn't think of any other medium with which to express myself. I started to work with bamboo by myself at night since that night on. Later in that year, I made my first bamboo basket, two hexagonal cylinders joined in the middle.
Although I successfully showed at Hiroshima Prefectural Art exhibitions since the late 1970s and even won some prizes and awards, the only training I had was examining my father's work and experimenting with my own hands. I felt a real need for systematic training to advance myself to a professional level. I took an early retirement from my engineering job in 1998 and went to study at the Bamboo Training Center in Beppu. After graduating, I took two years advanced study under Tanabe Kochikusai, a senior assistant to Shono Shounsai, the first Living National Treasure in bamboo art. We lived in Beppu while I was a child, and many senior artists there knew my father, so I enjoyed nice working relationships with so many people while I stayed there.
In 2002, I joined a study tour to New Mexico and had a group show in Santa Fe along with much more established bamboo artists. That experience deepened my professionalism. In 2004, I submitted my work to Nitten for the first time and got rejected. As I thought of changing my direction for the following year, one of the judges advised me to stay the course. I followed his advice and tried to improve my work for the following year. The result was fruitful. I won the Rookie of the Year Prize at the Japan Modern Art Exhibition followed by my first success at Nitten.
I like the straightness of this medium. When you cut into a culm, it  splits exactly in half. I put my heart into each piece. Preparation of the material really dictates the outcome of what you make in this medium. Although I am an old rookie in regards to bamboo art, it is my goal to some day make a piece that will advance this art form in my own small way.