Monden Yuichi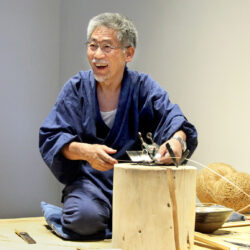 Monden Yuichi
Monden Yuichi's father, Monden Kogyoku, discouraged him from pursuing a career as a bamboo artist because of the economic hardships of the life. Heeding his advice, Monden Yuichi chose to become an engineer, but not before spending countless hours observing his father at work. Although not formally trained, this study gave him the tools he needed to produce one basket a year, which he submitted to local exhibitions.
The bamboo arts were never far from his thoughts. In 1998, when he retired from engineering, he attended the Beppu Occupational School and studied under Tanabe Nobuyuki, a top student of Japanese Living Treasure Shono Shounsai. Then here turned to the Hiroshima area where he was born and dedicated himself to bamboo sculpture.
In 2004, he won the Newcomers Prize at Japan's Gendai Kogei Exhibition and the next year he had his first successful admission in the prestigious Nitten show. His work is part of the collection at the Museum of Art and Design in New York City and was represented in "The Next Generation" exhibit at the University of Arkansas.
A marathon runner with an exuberant personality, Monden brings a fresh, vibrant energy to his ever developing work.