Tanabe Chikuunsai IV's large-scale installation at the Asian Art Museum evokes the immersive feel of a forest journey.
ART LOOKS Tanabe Chikuunsai IV has been surrounded by bamboo since he was born. A fourth generation Japanese bamboo artist, he studied at sculpture at Tokyo University of the Arts and learned technique from his father and grandfather. Chikuunsai usually produces small sculptural work and traditional flower baskets—but for several years, he's been fashioning large-scale installations at places including New York's Metropolitan Museum and the Musée Guimet in Paris.
Now Chikuunsai IV's largest sculpture, and the first one on the West Coast, Connection, is at the Asian Art Museum in San Francisco. This and other pieces are meant to evoke the immersive feeling of walking through a bamboo forest, with woven strands twisting from floor to ceiling.
His sculptures are regenerative: Chikuunsai IV starts by selecting stalks of tiger bamboo, which only grows in the mountains of Kochi prefecture, and weaves them into an installation. Then he takes that installation apart, cleans the bamboo, and recycles it into a new sculpture. The bamboo in Connection was previously used in works in Paris, New York and Sao Paulo, Brazil.
The artist spent several weeks at the museum installing Connection with three apprentices. He says he wanted to do the large pieces to appeal to a more general audience. 
"I began to realize that making large works appeals to young children," he said in Japanese. (Maya Hara, the museum's Japan Foundation Curatorial Assistant for Japanese Art translated his words.) "People are inspired. In Brazil, some people cried. There was an exhibit in Paris that was up for a year, and I saw people sitting inside the gallery, looking contemplative and sort of relaxed,almost like a healing experience."
The artist was born Tanabe Takeo—he was given the name Chikuunsai, meaning "master of the bamboo clouds," in 2017. Bamboo is sacred to him, which is one reason he wants to reuse the stalks in his installations. 
"At the university, I noticed that making art produced a lot of waste, and that making art was almost like a selfish act," he said. "I love bamboo so much, I want to take care of it and use it as long as I can."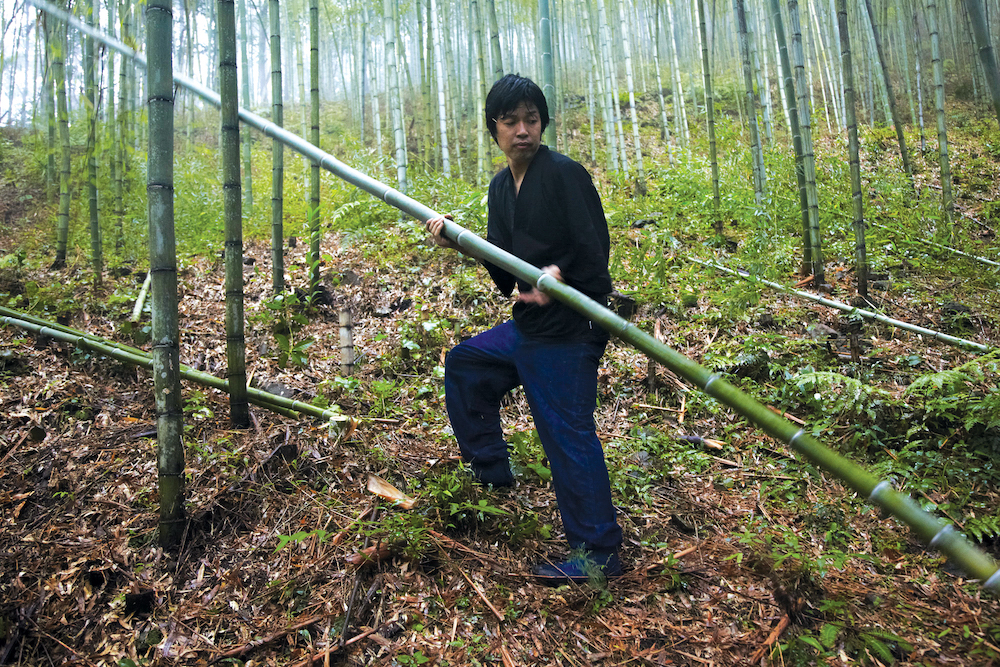 Another reason he likes taking apart his installations and reusing them is to emphasize the character of the bamboo, Chikuunsai IV says. 
"It's not like ceramics. I can make something and take it apart and remake it," he said. "Part of the title Connection is connecting generations of family to the future. I'm using the bamboo as a metaphor for connection from one cycle of life to the next cycle of life."
Having his work at the Asian Art Museum is particularly exciting to the artist because of its connection to renowned Japanese basketry collector Lloyd Cotsen, who donated more than 800 baskets from his collection to the museum in 2002. A competition that Cotsen sponsored in the 1990s made Chikuunsai IV decide he wanted to be an artist like his father.  
Chikuunsai IV still makes more traditional, smaller works in bamboo. Whether the works are big or small, he says he listens to his instincts. "I'm almost like a conductor with the large installations, trying to bring everything together, " he said. "With a smaller piece it's more like a solo performance."
CONNECTION
Asian Art Museum
Through August 25
Tickets and more information here