Credit: Minoura Chikuhō
When Japan opened up to the world in the middle of the 19th century, Western merchant ships were quick to return home with exotic art from the once reclusive nation. The private galleries and curiosity shops of London and Paris were flooded with Japanese woodblock prints, calligraphy and ceramics. But one traditional art form was, in retrospect, conspicuous by its absence — woven bamboo baskets.
At the time, bamboo weaving was still viewed in the context of the practical tools it yielded — ropes, kitchen utensils, baskets and boxes. Despite requiring decades of mastery and being steeped in centuries of tradition, the craft had been passed between generations and was not considered an elite art.
Artists wouldn't even sign their creations, as — having adopted the practice from China — they feared a Japanese name would damage the value of the work.
Growing Western demand
In recent years, however, the West has developed a growing taste for this intricate art form, with some pieces selling for tens of thousands of dollars.
Bringing together more than 70 bamboo artworks, the Metropolitan Museum of Art's current exhibition "Japanese Bamboo Art: The Abbey Collection" is just the latest example of how overseas interest in bamboo is matching and, arguably, outweighing that in Japan.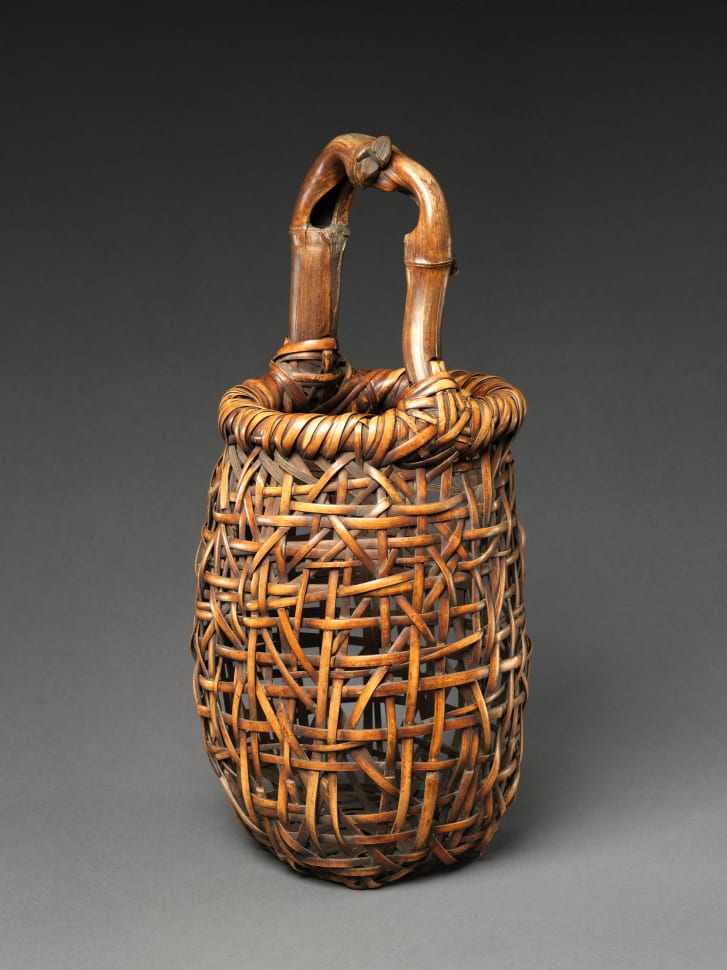 "Dancing Frog Flower Basket (Hanakago)" (1918) by Hayakawa Shokosai III. Credit: Metropolitan Museum of Art
"In Japan they only show bamboo art in conjunction with other crafts — no one in Tokyo or Kyoto is doing bamboo-only exhibitions," said Andreas Marks, Director of the Minneapolis Institute of Arts' Clark Center and curator of the traveling exhibition, "Modern Twist: Contemporary Japanese Bamboo Art."
Tracing Western interest back to the 1980s, Marks attributes the growing popularity of Japanese bamboo art to the dedication of a small number of American collectors. Among them, he names the late Lloyd Cotsen, the former president of cosmetics giant Neutrogena, who assembled — and regularly loaned out — a huge collection of bamboo baskets.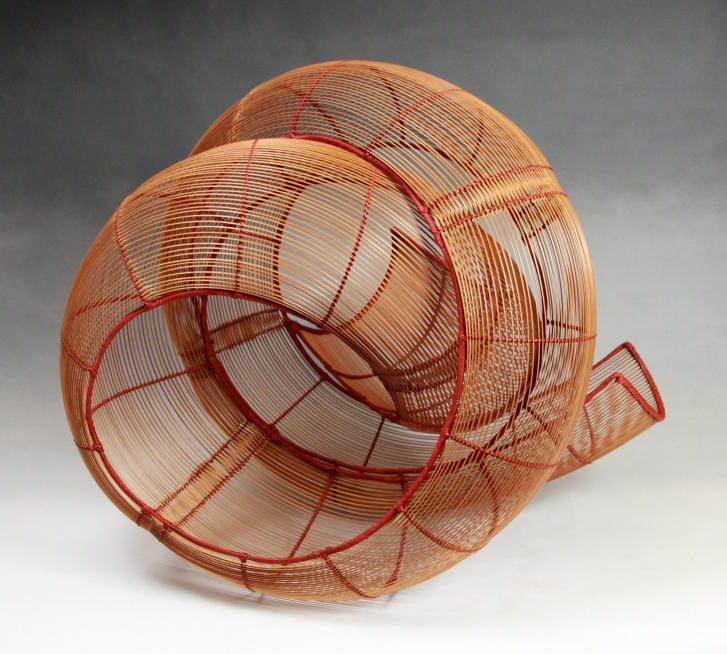 "Vortex" (2017) by Yamaguchi Ryuun. Credit: TAI Modern
Marks also said that contemporary bamboo artists are now creating work specifically for Western markets. He explicitly credits TAI Modern — a gallery in Santa Fe, New Mexico, specializing in Japanese bamboo art and baskets — with keeping the tradition alive.
"(TAI Modern) was pivotal for artists in Japan, because a new platform was created," Marks said in a phone interview. "Americans love sculpture, so suddenly Japanese artists are faced with freedom to create new forms and to create things that they hadn't done before. They can express themselves and go into new areas. And, if they're lucky, then (TAI Modern) takes them on, does a solo show and markets them in the US."
Modern interpretations
Today, TAI Modern houses a huge collection of woven items demonstrating the art form's versatility — from delicate and symmetrical boxes to irregular baskets made from thick, coarse-looking bamboo. Contemporary artists still draw on the tradition's utilitarian roots, creating vases and other usable items. But the material is also apt for more abstract expressions.
This is an approach increasingly explored by Japanese artists in the postwar period, according to the gallery's director, Margo Thoma. "I think of it all as this kind of sculpture — even when it takes the form of something that could be functional," she said in a phone interview. "Whether or not you use them, they are works of art."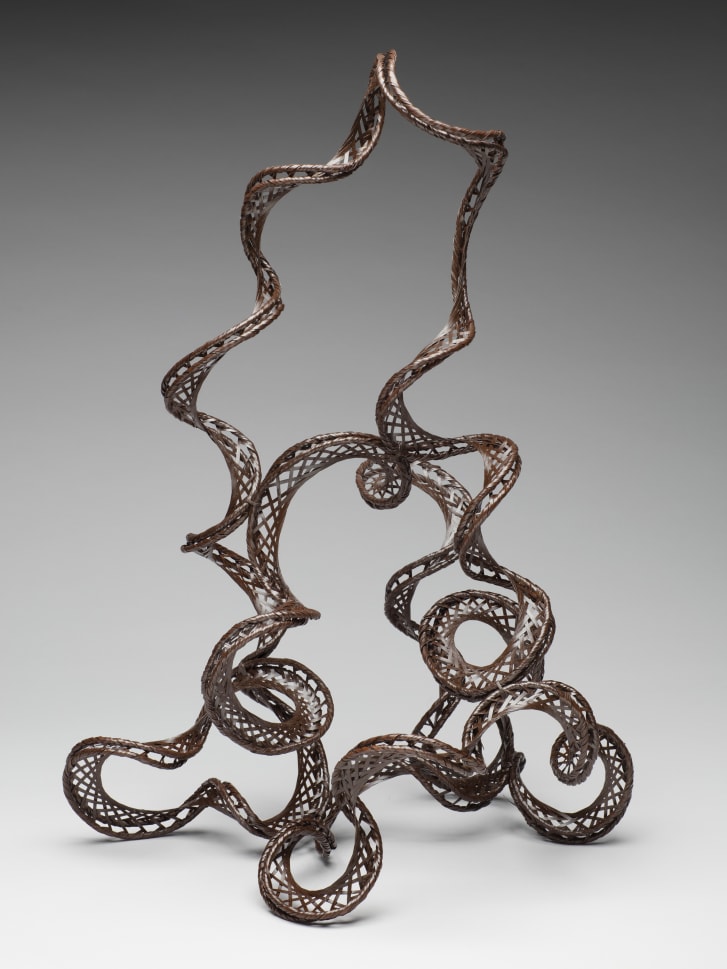 "Floating Wheels" (2017) by Honda Syoryu. Credit: TAI Modern
Strong, yet lightweight and flexible, bamboo is a challenging material to work with. Mastering the art involves not only weaving the bamboo, but harvesting, processing, dyeing and splicing it. Yet, it has huge potential to be expressive.
"(Bamboo weaving) is highly technical," Thoma said. "Before you can begin to make something, you have to prepare the material, and the majority of time taken making any basket or sculpture is spent splitting the bamboo. With bamboo, it takes years of training to even be able to create the strips that you weave baskets from."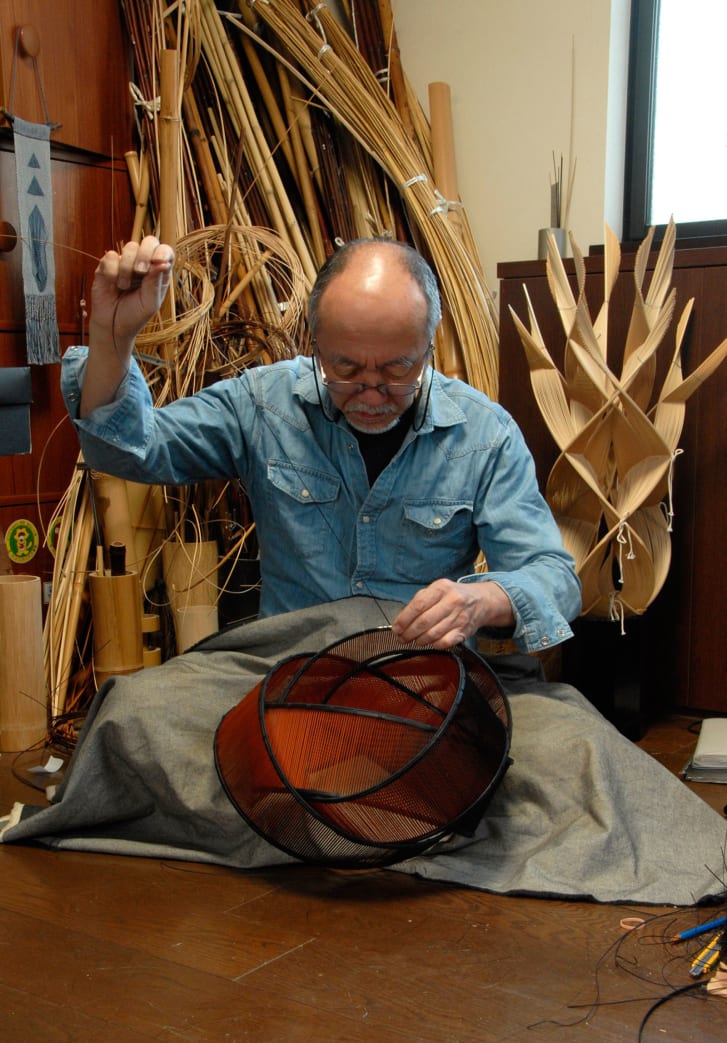 Japanese artist Fujitsuka Shosei works on a bamboo basket in his studio. Credit: TAI Modern
"Bamboo artists are passionate about (their material) in a way I don't really see in other media. With painters there's more of an interest in the end product than a passionate love for acrylic paint, for instance. But there does seem to be a (unique) fascination with bamboo, a material that has so many opposing qualities — it's simple but also really strong; it can be both powerful and delicate."
An endangered art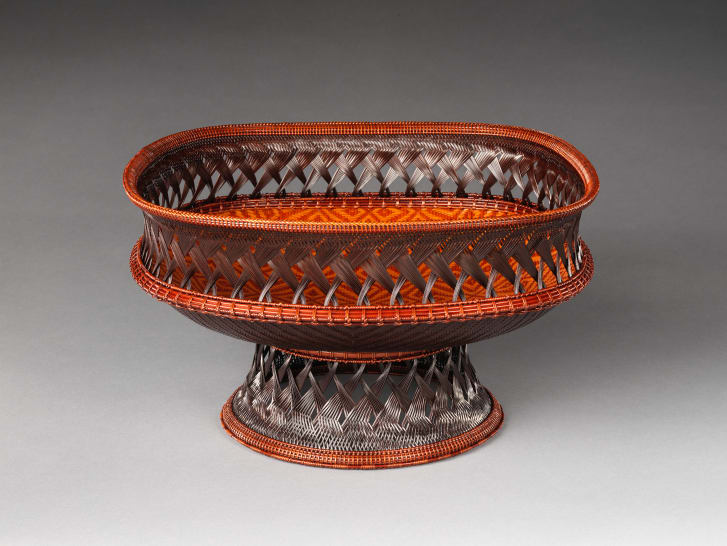 "Peerless Fruit or Offering Tray (Morikago)" (2012) by Noboru Fujinuma. Credit: Noboru Fujinuma
Bamboo weaving nonetheless remains a fringe art in Japan. TAI Modern believes that there are fewer than 50 full-time professional bamboo artists making original works in the country today. And, of those, only two masters have been named a "Living National Treasure" — a government accolade recognizing cultural figures who help preserve Japan's ancient traditions.
One of them, Noboru Fujinuma, fears that his art is being forgotten. "Japanese bamboo art is now coming to its limit in its originality," he said in a phone interview. "There are not many young artists coming up with creativity and their own aesthetic sense. The population of bamboo craftsmen is declining and they tend to dwell on being craftsmen who can create from design drawings, but cannot create designs for great pieces of art."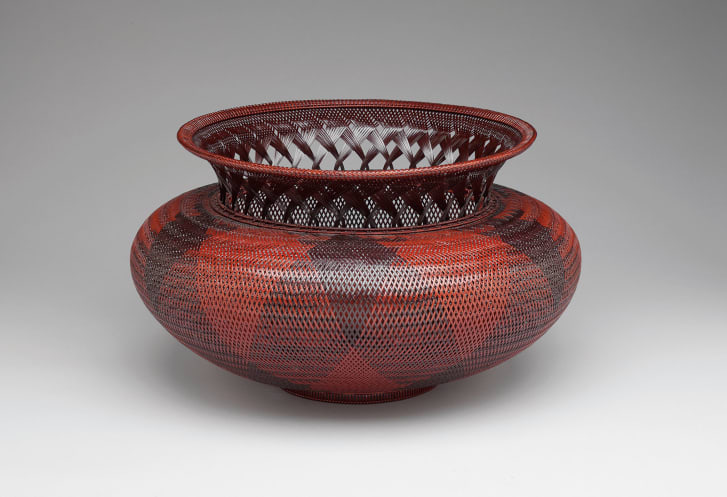 "Dream" (2005) by Noboru Fujinuma. Credit: TAI Modern
Fujinuma claims that his work is more appreciated in overseas markets than in Japan. But he hopes that foreign interest can help bolster the art's standing and popularity in his home country. For this bamboo master, there is no substitute for his favored material.
"Bamboo art is simple, and that's why it shows the deepest aesthetic and human quality of the artists," he said. "Each stick of bamboo is different. Understanding each piece and what you will create out of them — that's the charm of bamboo art."